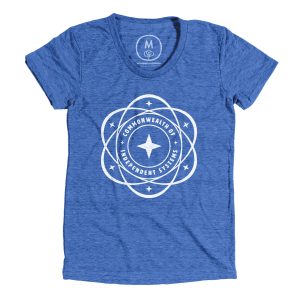 Over the past few months, I've had great fun sending out free signed bookplates and handing out stickers emblazoned with the insignia of the Commonwealth of Independent Systems and the Illyrican Empire, the two major factions from The Caledonian Gambit. Between those and the stamps I had made for signings, it's a fun way to bring a little personalization and depth to the story. But I wanted to take things a step further, so I'm pleased to announce that I'm selling my first t-shirt.
The Commonwealth of Independent Systems shirt is now available for a limited time from Cotton Bureau, in one of three colors: a royal (canonical) blue, an indigo, and a military green. The campaign runs for two weeks, wrapping up on January 16 at 8pm EST, so make sure to place your orders before then. (And read on for how to enter to win a free shirt!)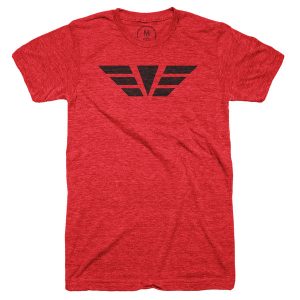 For you Illyrican fans out there, I haven't forgotten about you. I'm considering doing an Illyrican shirt later on, depending on how sales of the Commonwealth shirt goes, but I opted to start with this one because in sending out bookplates, the Commonwealth versions were requested twice as much as the Illyrican. But here's a sneak peek at what an Illyrican shirt will probably look like.
I'm also offering a chance for one lucky person to win a free Commonwealth shirt! All you have to do to get a chance to win is subscribe to my very infrequent mailing list by entering your email address in the form below.
I know, I know: giving away your email is a precious commodity these days. I understand completely. But I solemnly swear that the only thing you'll get is a pretty rare email from me letting you know about announcements related to my writing and appearances. That's it. Nobody else gets your email, and I won't abuse the power. So you've got nothing to lose and a possible t-shirt to win!
I'll pick a winner from everybody who's subscribed to the mailing list as of January 16, 9 a.m. EST, so if you've already signed up, you're automatically entered. (That also gives me time to contact the winner and for you to still buy a shirt if you didn't win.) Good luck!
The form you have selected does not exist.