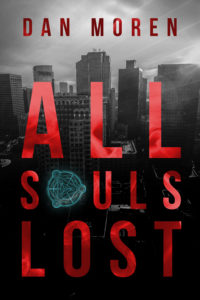 The leaves are changing, the pumpkin spice is flowing, and hard as it is to believe, there's just a week left until All Souls Lost is out. It's always a little bittersweet when, after years of working on a project, you reach the moment when it's no longer just a story that lives in your head, but one that's out there in the world, subject to all the slings and arrows1 that might get thrown its way. Fly, little story! Be free! Watch out for that hawk!
Anyway, as we count down the days, I had a couple of tidbits I wanted to throw your way. (Readers of my newsletter will know most of this already, which is a good reason that you should subscribe right now.)
Paper, please
Electronic books aren't everybody's thing, I get it. There's something about wood pulp that's just more aromatic than, uh, electrons. Well, good news: All Souls Lost will be available in print! However, the print copy won't be on sale until release day (next Tuesday), and it will be available exclusively from Amazon. I know that may disappoint some folks who were interested in getting a signed copy, but or now you'll have to track me down at a public event if you want your copy autographed. (I'll also have to see about getting some more appropriate bookplates.)
Now hear this
Audiobook fans can also rest easy: there will be a version of All Souls Lost piped directly into your ears. It's narrated by the excellent Mirron Willis and you can currently preorder it in a few places, including Apple Books and Barnes & Noble. And yes, it should be available on other services, including Audible, hopefully in the near future—I've still got my fingers crossed that will be the same time as the print and ebook versions, but I unfortunately can't guarantee it as some details are still being worked out.
All Souls Lost: The Soundtrack
Weirdly, I've been writing more in silence lately, but in the past I've usually put on movie scores for some background music: much of the Galactic Cold War series owes its inspiration to the likes of Daft Punk's TRON: Legacy album, the many and varied Mission: Impossible scores, and of course the voluminous oeuvre of John Williams.
But something about the feel and tone of All Souls Lost called out for something a little different. So allow me to present, for your enjoyment, a (slightly whittled down) version of the playlist I built while working on this novel. It's a bit eclectic2, like much of my musical taste, but if you want to whet your appetite for the book, you could do worse than putting this on. I've embedded the Spotify version below, but it's also on Apple Music if you're so inclined.
I do wish these services would let me annotate the tracks with my own notes about which scenes they go with, but perhaps that's a project for a little later this fall, once the book is out.
Anyway, just keep it on repeat until next week, and you'll be fine. And don't forget to tell your friends, relatives, and local bus driver to preorder All Souls Lost—it's the perfect read for spooky season.