As I write this, I'm sitting in the open air, right off the beach in Tulum, Mexico. It's a pretty striking contrast to the opening of The Bayern Agenda, which I don't think I'm spoiling too much by saying takes place in a somewhat colder climate, in every sense of the word.1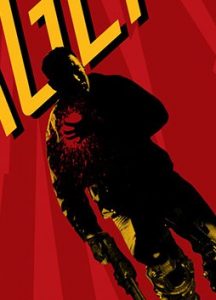 But you're not here for me to wax rhapsodic about my vacation. No, you're here for book news, and book news I have. Over at SciFiNow, they've got a first look at the brilliant new cover to Bayern—a taste of which you can see right here—designed by the folks at Amazing15, who definitely live up to their name. I'm hopeful that the book will pop off the shelves just as much as the cover seems to.
Now, Bayern is equal parts sci-fi and espionage story, and so I couldn't resist also talking about the most famous fictional spy around, James Bond. Look, I've watched quite a few Bond movies and if there's one thing that popped out at me as I was revisiting several recently, it's that Bond is just a terrible spy. Hit up the SciFiNow link above to see five reasons why 007 is just the worst.
As a reminder, The Bayern Agenda will be hitting shelves, physical and virtual, on March 5th, 2019. There's still plenty of time to pre-order your copy from your favorite bookseller, whether they're brick or mortar or online.
---
I must be allowed my little cold war jokes.↩