Writing is big business, right?
I'm always interested when writers like John Scalzi, Jim C. Hines, and Kameron Hurley talk about the economics of the writing business. I'm certainly not at the same place in my career as any of them, but maybe somebody out there is interested in what the finances of someone just starting out in fiction writing—but who's also spent the last four years as a professional freelance writer and podcaster—look like. And, well, the only numbers I have at my disposal are my own.
As a freelancer, I have to keep a close eye on my finances as it is, because nobody else is going to do it for me.1 So since I already have those numbers, I thought I'd share this chart: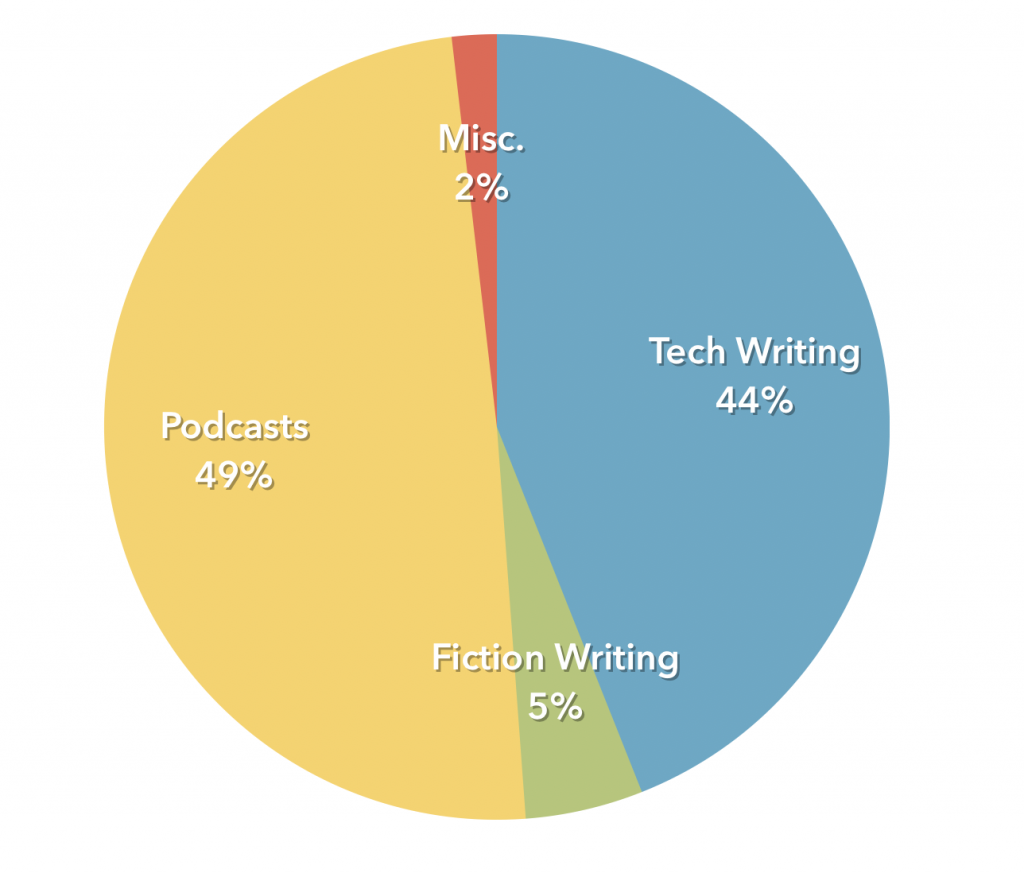 Yep, that's my income breakdown from 2018. I'm not going to break out dollar figures here, as that's just something I'm not comfortable with right now, but to put this overall chart in context, my gross income does not reach six figures.
This marks the first time I've made more from podcasts—which includes ad revenue from Clockwise and The Rebound, as well as memberships fees for Clockwise and my various Incomparable shows—than from tech writing, which is a fascinating swing for me, even though my overall income was still split evenly between writing and podcasting.2 In large part, that change is because I took on fewer tech writing gigs this past year, but also because podcasts have been doing well recently. I certainly hope that trend continues.
Fiction writing also made up the biggest percentage to date of my writing income, in part because last year I signed a two-book contract with Angry Robot, as well as seeing the first royalties from The Caledonian Gambit, which was published in 2017. Comparatively, fiction writing made up 2 percent of my income in both 2017 and 2016. In raw terms, I netted just slightly more from fiction writing in 2018 than I made in 2017 and 2016 put together.
I'll take that as a pretty good trend, and while obviously I can't insure that it continues in that direction, my goal has always been to slowly increase the percentage of my overall income that fiction writing brings in. But fear not, I'm not about to stop writing about technology or shutter my podcasts; they're still bringing in the lion's share of my income and, besides the fact that it would be economically foolish of me to toss them aside, I really enjoy those parts of my work and am extremely gratified that I can make a reasonable living off them.
As for 2019, I've already got a couple things lined up on the publishing front that I'm excited about, and I hope to develop more as the year continues.
---
Without me paying them to do it, that is, which isn't something I can afford at present.↩

The miscellaneous income, if you're curious, is mainly a tiny bit of Amazon affiliate revenue, and sales of my t-shirts and pins at the Cotton Bureau.↩