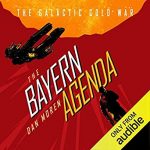 I've gotten a lot of questions about the audiobook version of The Bayern Agenda, and I'm delighted to let you all know that a) there will be an audiobook version, b) it's now up for pre-order on Amazon (and hopefully soon to follow on the Apple Book Store and elsewhere), and c) it should arrive on the same day as the print copy!
The audiobook is being produced by Audible Studios and narrated by Victor Bevine, whose dulcet tones you may have heard on the likes of Michael Lewis's The Fifth Risk and many books in R.A. Salvatore's oeuvre, which is some truly illustrious company.
So if you've been waiting for a version of the book you can read with your ears, well, there's no reason left to wait.