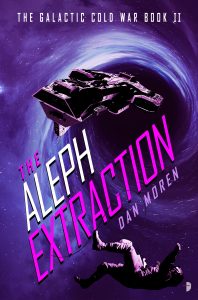 We're on the move! As mentioned on Twitter and in my newsletter yesterday, The Aleph Extraction, which was previously due in March of next year, has moved to May 2020.
This came out of discussion with Angry Robot; we agreed that the schedule for getting the book out the door was a little tighter than we liked, and that adding a bit more time would ensure that Aleph would be the best book it could possibly be.
I know many of you were looking forward to something to perk you up in the dreary days of March, but I think we can all agree that the superior weather of May means a great opportunity to lounge in the newly warm weather with a good read. My thanks to all of you who have already pre-ordered—it makes a huge difference to not only the success of Aleph, but also to helping advocate for further books in the Galactic Cold War series, which I'd love to continue writing. So, if you haven't pre-ordered yet, well, what are you waiting for?
Oh, and if you are a subscriber to my newsletter, you'll have also gotten a treat with that aforementioned email: a never-before-seen deleted scene from The Bayern Agenda. I'm hoping to share a few more of these here and there, but I figured that might be a fun little extra. Interested in seeing that and more? Sign up for the low-volume newsletter.