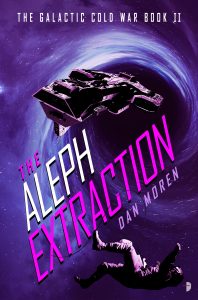 Update 11/22: The Commonwealth of Independent Systems shirt is also going to print, so I've thrown in one of those as a prize as well!
Update 11/18: As my Illyrican Empire t-shirt is officially going to print, I'm adding a code for a free shirt as an extra prize!
Here's the thing about publishing: it takes time. Last year, right about now, I was knee-deep in cranking out The Aleph Extraction; here we are, a year later, and I've just delivered the revised manuscript of the book, with only a last look-see before it goes off to the printer. And then, six months from today, it'll be winging its way into your hands, ears, or e-readers—as though by magic.
In the meantime, however, what's large left for me with this book—aside from a few last-minute tasks—is sitting and waiting. And, of course, encouraging all of you to pre-order.
I've explained before why pre-orders are important: in short, they feed into the number of first week sales for a book, which is the most important week of sales, because it's generally the highest and most reflective of what kind of demand there is for a book.
If anything, pre-orders are more important than usual with this book, because I am not at present contracted for any future Galactic Cold War titles. So if you want to read more about the adventures of your pals Kovalic, Brody, Taylor, and Tapper1, the best way to ensure that there is a next adventure is to pre-order this one.
To that end, I decided it would be fun to do a little promotion. So, if you've pre-ordered my book, send a copy of the receipt (photo or screenshot) to contest [at] dmoren.com. Make sure you send it from, or supply, an email address at which you can be reached.
On November 26th, I'll do a random drawing from those who have entered for each of the following prizes:
And in case that isn't enough, I may add one or two more prizes to the mix in the next week or so, in which case I will update this post accordingly. I appreciate all of your support and wish you the best of luck.
Official Rules
Entrants must be over 18 and live in the US. (Sorry, international folks, but that's the way it is. You can always request a free signed bookplate though!)
If you're a family member or personal friend of the author, you're ineligible for this giveaway. (But I still love you.)
Enter by sending a copy of your receipt for The Aleph Extraction to contest [at] dmoren.com. One entry per person! Your email will be used only for notification purposes related to the giveaway and will be discarded after the giveaway has concluded, unless you have opted to subscribe to my newsletter.
NO PURCHASE NECESSARY. To enter without a receipt, use this form; method of entry will not affect odds of winning.
Giveaway begins at 9:00 a.m. Eastern Standard Time, Tuesday November 12th and runs until 11:59 a.m. Eastern Standard Time, Tuesday November 26th.
At the close of the giveaway, random numbers will be generated by random.org for each prize to be given away. The corresponding number in the spreadsheet of entries will be declared the winner. Only one prize per person, so if the same number comes up again, a new number will be generated.
Odds of winning depends on the number of entries.
Once contacted, winners have 48 hours to claim their prizes or a replacement winner will be picked. And so on, until winners are found for all the prizes.
VOID WHERE PROHIBITED.
---
Plus a few new faces from Aleph who I think you're going to love.↩