Strange days, to be sure. Hope you're all doing well, or at least as well as can be expected when you're probably bouncing off the walls in your own home.
So, here's the deal. This weekend, several folks on Twitter alerted me that they'd received emails from Amazon telling them that pre-orders of the paperback version of The Aleph Extraction, which are supposed to be released on May 12, have been delayed, with no new ship date offered. As a result, customers who ordered the book have been given the option to cancel or keep their orders.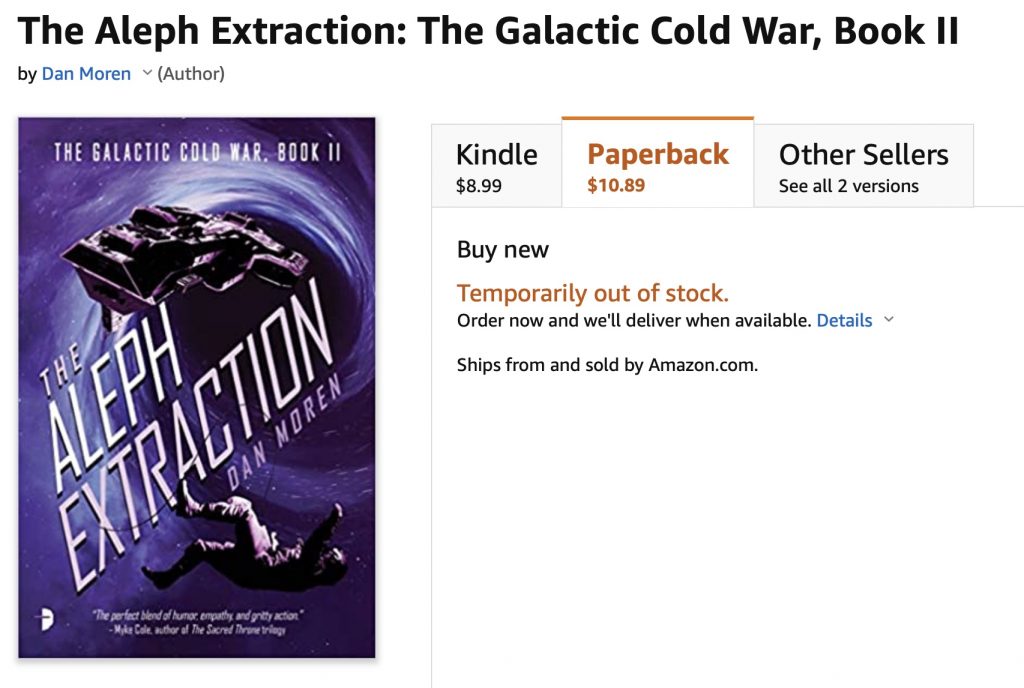 I have it on good authority that I'm not alone in this situation; unsurprisingly, the coronavirus outbreak has had wide-reaching effects, and Amazon has responded in part by delaying shipments of non-essential goods, including books. Let's be clear: authors—and, in many cases, publishers—have had no hand in these decisions whatsoever.
Obviously, this isn't great for writers. Pre-orders, as I've discussed elsewhere, are very important to authors, as they contribute to first-week sales numbers, which are also generally the biggest week of sales for a book and can often make or break a title. And those sales are even more important for a book like Aleph, where I can tell you that the possibility of future installments in the Galactic Cold War series very much hinges on how well this book does. Plus, since Amazon is still the biggest game in Booktown1, it's in a position to make unilateral decisions that no author or publisher has a say in—so my career is, quite literally, at the company's whims.
That said, I know this is fairly small potatoes with everything else going on right now. Financially, I'm going to be fine; fiction writing is still only a small chunk of my income. If you're content to just sit and wait until Amazon delivers your pre-order in its own sweet time, or, hey, if you feel you need to cancel your pre-order entirely, I don't begrudge that in the slightest. I always advocate borrowing an ebook copy from your local library, via tools like Libby, Overdrive, and Hoopla—and, if the book isn't available in your local library system, I bet they'll probably even order a copy if you request it.
If, after all of that, you are still determined to get a copy of The Aleph Extraction as soon as humanly possible—for which I thank you and bestow upon you many blessings!—you have a few options:
The ebook version is still on track and will be delivered on May 12. You can order it from a number of places, including direct from my publisher, Angry Robot, which gets you DRM-free copies in both of the most popular ebook formats: ePub (compatible with iPad, Kobo, and other readers) and MOBI (the Kindle format).2 Moreover, Angry Robot is currently running a sale through April 11: you can get 50 percent off all ebooks using the code SHELFISOLATION. If you prefer a different platform, you can also pick up an ebook copy from Apple Books, Barnes & Noble, and Kobo.3

If it's a print copy you have your heart set on, I obviously can't guarantee when it will arrive, but you may have better luck with a non-Amazon vendor. Barnes & Noble is, again, always an option—given that their business is much more book-centric than Amazon, they may still be prioritizing those shipments—but I always recommend you contact your local independent bookstore, because a) local bookstores are the so-called knees of the bees and b) they are probably full of lovely people who will do their best to help you out. The good news is that there are a couple great resources to help you with that: Indiebound will help you find independent bookstores near you, and the new Bookshop will let you order directly from many of those establishments online. And hey, even if the book doesn't arrive any faster that way, you'll at least get a warm and fuzzy feeling from supporting a local business!

I can't speak to the current status of the audiobook for The Aleph Extraction. I know it was being produced as of about a month ago, but as Mary Robinette Kowal points out on Twitter, there are reasons the current world situation may result in delays to audiobooks as well. I'm hopeful it will still be available on May 12, alongside with the ebook, but I don't have any guarantees as of this writing.
Again, I know the problems of one little author don't amount to a hill of beans in this crazy world, but I do appreciate the support you've all shown me over the last many years. It's a weird time to be releasing a book, for sure, but we have to play the hand we're dealt. It's just over one month until Aleph's release, and the good news is that we've got a few more things up our sleeves, so keep an eye out.