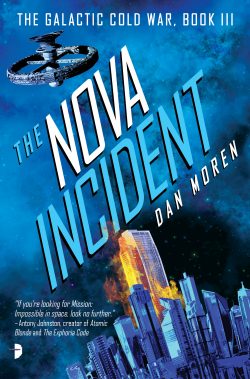 Buckle in, friends. If you've been waiting for your chance to preorder the latest installment of the Galactic Cold War series, the time is at hand! Preorders are now live from all your favorite bookstores, online and off. Get ready for the newest adventures of Eli Brody, Simon Kovalic, Addy Sayers, and the rest of the team as the ongoing conflict between Commonwealth and Imperium hits home—in more ways than one.
And, for the first time, you can get yourself a signed copy of the paperback when it arrives, thanks to the good people at my local bookstore, Porter Square Books. Just head over there to place your preorder—you can even specify a personalized message from yours truly. I will literally write whatever you ask. Almost. Within reason.1
As a reminder, preorders are very important to authors. They help register interest in a title, which is one of the key things when it comes to that author being able to publish more books. So if you want more stories in the Galactic Cold War series (or, heck, more books of any kind by me!), then please consider preordering. It helps count towards first-week sales, which can be make or break for a lot of books.
Also, I can say that while it's not yet available for preorder, there will be an audiobook version of Nova coming. I'll share more details about that when I have them, but if you're holding out for that, rest assured that it's on its way.
Finally, people often ask when buying a copy of my books what's the most beneficial place/format for me, to which I say, pick whatever's best for you. I talk about this a bit over in my FAQ2, but the end result is that, for me, it all comes out in the wash. But you should definitely buy it from the place where you'll get the most enjoyment out of it.
Thanks again for all your support. I'm looking forward to all of you getting your hands on The Nova Incident and I can't wait to hear what you think.