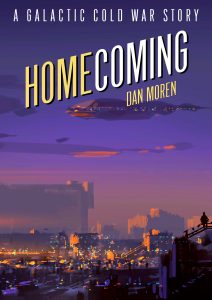 A couple years ago, I decided to dip my toe into the world of self-publishing by making ebooks of a few deleted scenes from my books that seemed like they'd work as standalone short stories. The response to those was pretty positive and I learned a lot from the experience, so in August 2020, as I was finishing up work on The Nova Incident, I decided I'd take a stab at writing a totally original Galactic Cold War short story to lead into that novel.
The result: "Homecoming", a roughly six thousand word short story that will come out next week, three months to the day before Nova's release (and, perhaps more importantly, two days before my birthday). You can—and, naturally, should—pre-order it now, from your preferred ebook store. I'd much appreciate it if you would. (You've already pre-ordered your copy of the Publishers-Weekly-starred-review phenomenon that is The Nova Incident, right?)
So, what's "Homecoming" about? Glad you asked:
Visiting your family can be stressful. For Commander Natalie Taylor of the Commonwealth Navy, it's doubly so, since it means traveling across enemy lines to her homeworld of Centauri, occupied by the Illyrican Empire for the last twenty years.

And when you're a spy with a job to do, well, it can be downright deadly.
I've had more than a few readers clamor for more time with Nat, who first appeared in The Bayern Agenda1; it'd always been my intention for her to take a more prominent role, but sometimes there's only so much room in a story.2 I also wanted to visit Centauri, a planet that's been referred to a number of times, starting in The Caledonian Gambit, but has yet to take center stage. This seemed like a good opportunity to do both!
But I also harbor a few ulterior real-world motives for publishing this story. First up, as I discussed in a recent Twitter thread, I currently have no other books under contract, though I have proposed a couple more Galactic Cold War installments to my publisher with the hopes of concluding the story3. (If you're looking for the best way to help ensure those books happen, you probably already know: pre-order your copy of The Nova Incident, and make sure that all your friends do the same. Chances of a follow-up book greatly increase with the success of this one!)
Secondly, in the past I've talked on this blog about the business of writing, and how I manage my various sources of income. The previous ebooks I put out did very well in terms of downloads, but they were also free (in the majority of regions), so the money I make from them is negligible4. But I'd hoped that even a fraction of those people who downloaded free ebooks might be willing to pay a small amount for brand new content, thus potentially turning it into yet another of the diversified income streams I cobble together to make my living.
As a follow-on to which, I'll say that traditional publishing is a tough field at times—and lately, it seems even more so than ever. Even when you pour your heart and soul into a project, there's no guarantee it'll find a home. And while I don't want to give up on it entirely, because I appreciate much of what it has to offer, I would be remiss in not exploring other ways to tell stories that might otherwise languish in a drawer. Metaphorically. It's not like I'm printing these things out. Trees are our friends, people!
Anyway, I'm glad to find a way to share this story with readers. I hope you'll consider checking out "Homecoming"; I love this little story and I think you will too. And who knows: maybe it means more Galactic Cold War stories in the future.